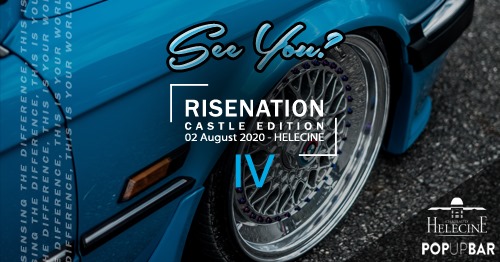 Risenation – Castle Edition 2k20
Datum/Zeit
Date(s) - 02.08.20
08:00 - 17:30
Veranstaltungsort
Château d'Hélécine
Kategorien
Location: in the Castle of Helecine in collaboration with the Pop Up Bar Hélécine
In a beautiful place with a castle and its park,. Location for over 1000 cars.
Car placed on lawn
Only on selection via Facebook or invitation received
✅ Cars accepted:
– All brands
– Oldtimers & new cars.
– No damaged / unfinished cars.
– Car with rims and lowering. No car in original position with just rims
– No Tuning Cars
– No Rats Cars
✅ Admission price:
15 € / car .
Visitor : Free.
Opening of the doors: 8:00.
Closing of doors: 17.30.
Acceptance of entry until: 12:30.
✅ TOP20 Selection and Top favorite
✅ Toilets, foods, drinks provided.
✅ Professionals present and Support :
– Soon Information
❌No sono – No burns – No car traffic on the site.
❗️❗️❗️❗️❗️❗️❗️❗️❗️ On arrival in the village, respect the speed of 30km/h, no burns, sono, breaker, people will be there to monitor the road. Anyone who does not respect these rules will be refused entry to the castle.❗️❗️❗️❗️❗️❗️❗️❗️❗️
The event updates will also be on the " Risenation " page.
Thanks you