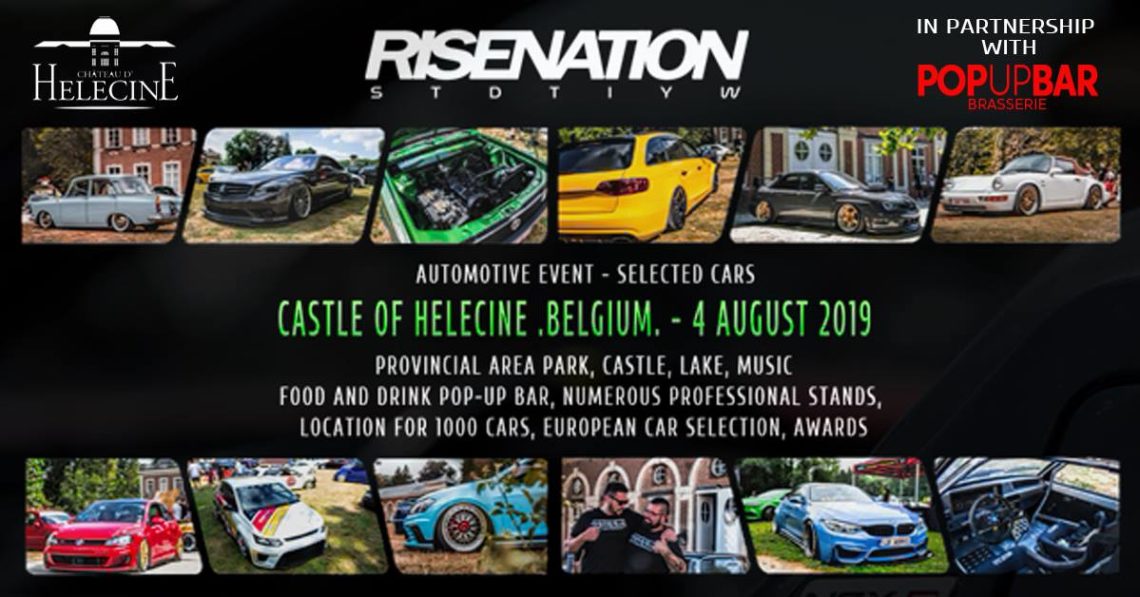 Risenation – Castle Edition 2k19
Datum/Zeit
Date(s) - 04.08.19
08:00 - 17:30
Veranstaltungsort
Château d'Hélécine
Kategorien
Location: in the Castle of Helecine in collaboration with the Pop Up Bar Hélécine
In a beautiful place with a castle and its park,. Location for over 1000 cars.
Car placed on lawn
For Edition 2018 on the Castle of Enghien

Only on selection via Facebook or invitation received
❌ GPS address of exhibitor entries :
Rue de l'Abbaye 40 , 1357 Hélécine / Heilissem, Belgique
❌ GPS address of visitor entries :
Rue Armand Dewolf 2, 1357 Opheylissem, Brabant, Belgium
✅ Cars accepted:
– All brands
– Oldtimers & new cars.
– No damaged / unfinished cars.
– Car with rims and lowering. No car in original position with just rims
– No Tuning Cars
– No Rats Cars
✅ Admission price:
15 € / car .
Visitor : Free.
Opening of the doors: 8:00.
Closing of doors: 17.30.
Acceptance of entry until: 13:00.
✅ TOP20 Selection and Top favorite
✅ Toilets, foods, drinks provided.
✅ Professionals present:
Static (BE)
FVCKERZ (DE)
null-bar (BE)
Sjaak's autoservice (NL)
Hondamodelcars (BE)
Interieur Factory Weissen (DE)
Shine in Style (BE)
My F. Stickers (FR)
stickcompteur.fr (FR)
J.L. Service Car Detailing (BE)
Low Art Paris
Phoenix Auto & Cleaning District (FR)
The Belgian Brothers (BE)
87motowear.com – automotive apparel (DE)
Superb Records (BE)
Low Madness (DE)
Violent (EU)
Update coming soon
❌No sono – No burns – No car traffic on the site.
❗️❗️❗️❗️❗️❗️❗️❗️❗️ On arrival in the village, respect the speed of 30km/h, no burns, sono, breaker, people will be there to monitor the road. Anyone who does not respect these rules will be refused entry to the castle.❗️❗️❗️❗️❗️❗️❗️❗️❗️
The event updates will also be on the " Risenation " page.
Thanks you